Kyoto: the Philadelphia of Japan?
Oh, Tokyo! A whirlwind of neon and neighborhoods and long nightly walks searching for a dinner that might consist of something other than noodles in liquid! After four days barely scratching the surface of Tokyo's myriad offerings, we headed west in search of a few quieter days.
We left the hustle of Tokyo on the Shinkansen Bullet Train (a civilized way to travel if ever there was one), with a plan to spend the next few days exploring Kyoto. Friends told us that 3-4 days within our two-week travel itinerary would be plenty of time to experience the temples, markets, and the nearby mountain towns. But after spending the initial four days in Kyoto, we gleefully extended for another two nights. We're now of the collective mind that a month minimum would be necessary to take in all that Japan's sixth largest city has to offer.
Our mutual fondness for Philadelphia is renowned among our family a friends - a city that was Addie's home for 5+ years and Andy's for nearly 20. If Tokyo is Japan's New York City, we dare say that Kyoto is its Philadelphia. Which is not to say that the citizenry would be as likely to throw snowballs at Santa Claus, but based on vibe and scale, this comparison feels right.
Like Philadelphia, Kyoto was once the nation's capital - for hundreds of years, in fact, prior to Japan's Edo period. Much of its centuries' old charm remains evident right on the surface, offering a glimpse of Kyoto's past and of the Samurai influence that ruled these parts for hundreds of years: tiny streets lined with wooden dwellings, small storefronts, an endless array of temples nestled in the foothills of the surrounding mountains, and the Kamo River cutting a partition through the city's heart that yields stunning views of the metropolis and its surroundings.
In terms of scale, the population is roughly the same size as the City of Brotherly Love at just around 1.5 million people. Like Philly, it retains a mixture of its old world identity while also brimming with the modern energy that includes sky scrapers and a corporate economy. It's this digestible scale combined with coexisting history and modernity that make it not only a wonderful place to visit, but a very livable city as well.
Sticking with what worked in Tokyo, we made our arrangements at an Air BnB. We booked an apartment situated just south of the Imperial Palace Park, and just north of the Nishiki Market. It was a machiya style house, though quite modern on the inside, with ample space for the two of us (if not the headroom for a 5'10" man to walk through a doorway without slouching) and much-needed laundry facilities as we approached the halfway point of our trip. Clean undies!
Our 2 subsequent days at the end of our Kyoto stay were spent at the Royal Kyoto Hotel which was entirely adequate, if not inspired.
Once you get past the carefully crafted tourist experiences (you might question if the Disney corporation plays some hand in their packaging given how idyllic things seem)...
... Kyoto becomes a place that rewards exploration. There are countless restaurants accessible in all parts of the city. We joked that there must be more restaurants than people in Kyoto. Many are modest establishments seating no more than twenty, pleasantly reminiscent of the smaller bistros of Paris. It was in Kyoto that we began to trust our guts a bit and wander into the more interesting eateries, not just the ones where the picture menus told us what would show up at our table. This led to several exceptional chef-designed tasting menu dinners we entered blindly and left in a state of bliss.
In addition to the traditional Japanese fare, there's a palpable French influence from which patisseries and boulangeries abound, allowing Western visitors to be led astray by the homey aromas of browning butter and baking bread. The French-style baked goods we came across often still possessed the uniquely Japanese characteristic of being fluffy and light. It becomes easy to convince oneself that the fluffier the bread, the less calories per satisfying bite, though this line of thinking may be suspect. The most basic of these cloud-like baked goods is shokupan, their standard white bread. The crust is pleasantly chewy while the interior practically melts in your mouth. Delicious.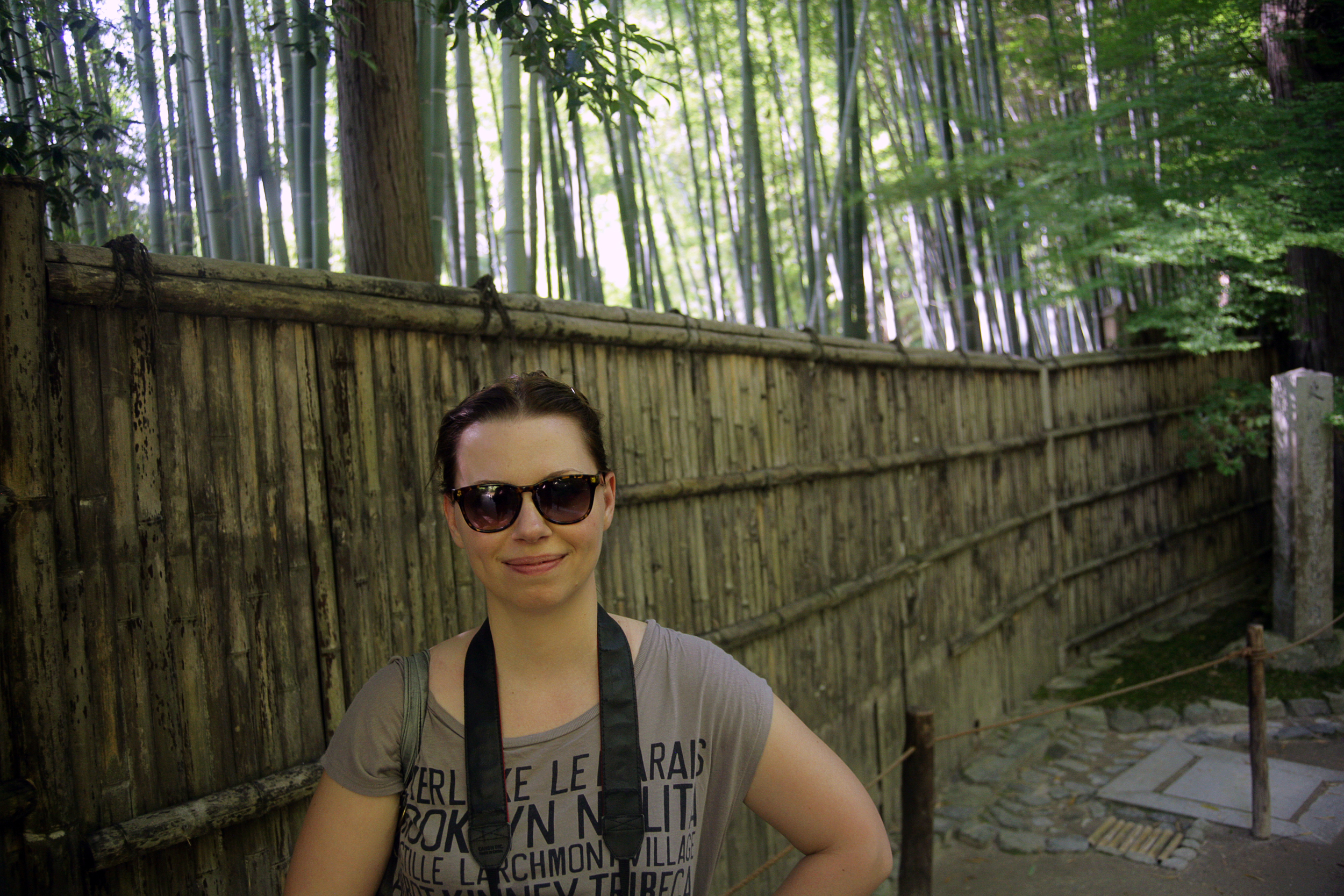 The Philosopher's Path is located in the Higashiyama section of Kyoto, running across the foothills on the east side of the city. It's about a 90-minute walk if you're to take it at a leisurely pace, longer if you stop along the way at its various temples and gardens (which you no doubt should). After some soft serve matcha ice cream, we began at the north end at Ginkaku-ji temple - notable for its impeccably maintained grounds. If you have an image in mind of the perfect Buddhist garden full of manicured moss beds, bamboo fences, maples and babbling streams then you can't be disappointed by what you find here. It's everything you're picturing right now.
We finished the walk at the Eikan-do Temple, with its massive entrance gate. Hike up the hill behind the main temple you'll find subsequent temples on the grounds, as well as an aqueduct that's several centuries old. If you can make it during the cherry blossom season the entire Philosopher's Path must be something to behold because even in the off-season, it's pretty fantastic.
The other classic Kyoto walk is from Maruyama Park to the Kiyomizu Temple. Along the way there are scores of shops selling housewares, teas, ceramics, traditional Japanese clothing and much more. Many are actually quite nice, despite being located in what feels very much like a well-worn tourist corridor. The closer you get to the Kiyomizu Temple the more congested it becomes, with hundreds to thousands of sightseers stopping for the photo ops on the serpentine streets that overlook Kyoto.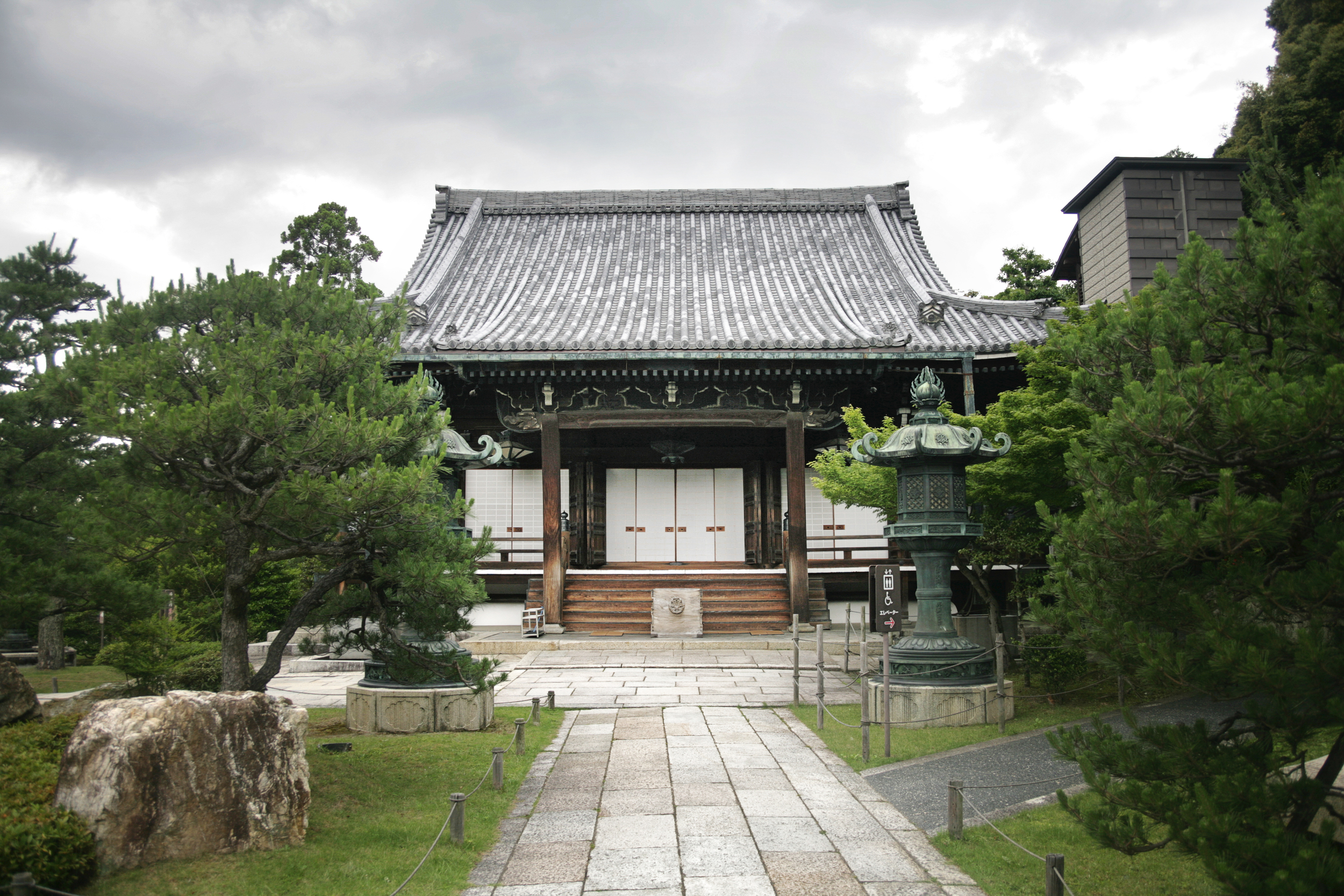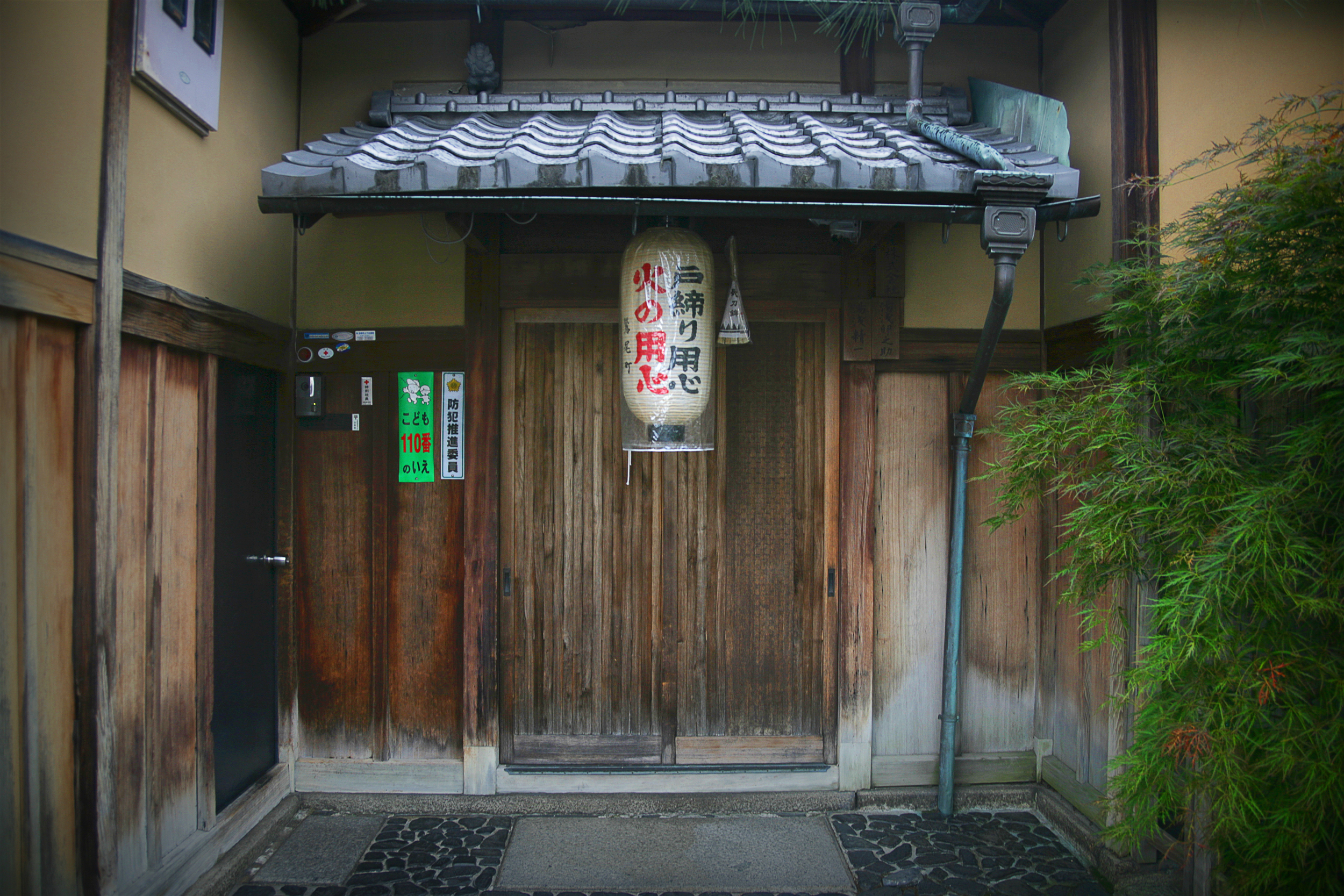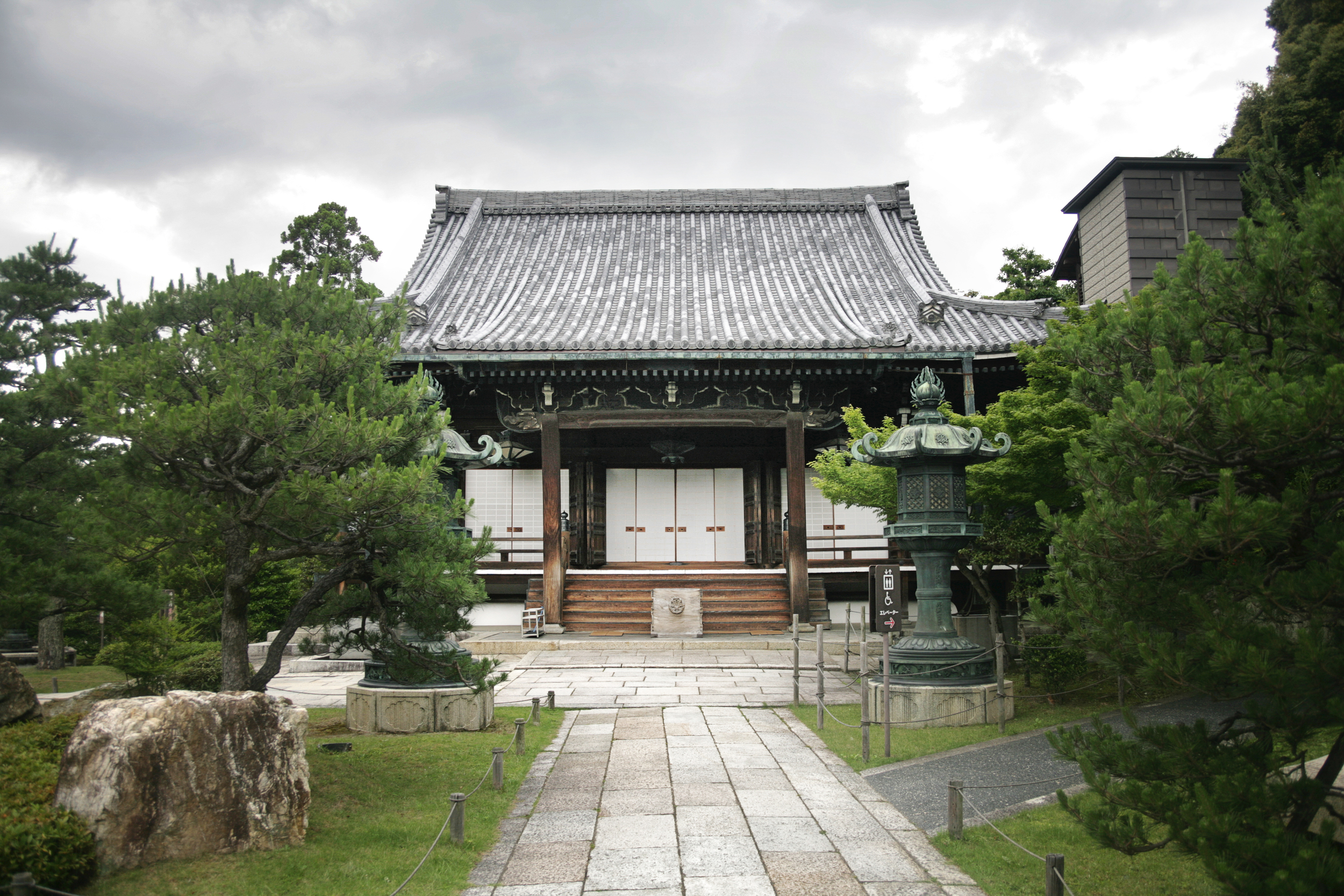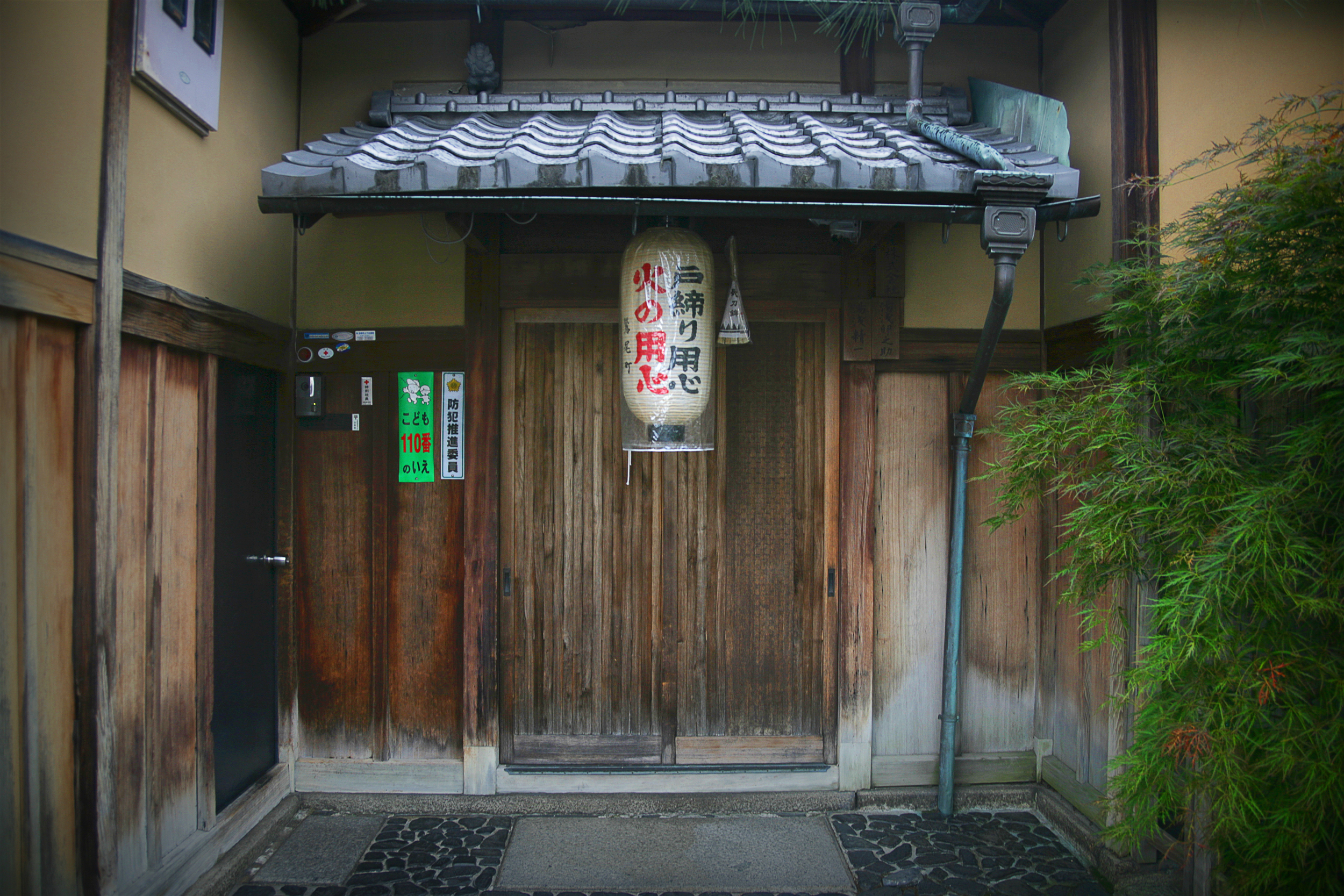 Geisha culture still thrives in Kyoto, if only as a tourist pass time. Many women can be found here playing dress-up for the day in Geisha attire including sandals and kimonos to have a bit of fun while visiting this historic swath of old Japan. There are lots of places to rent the attire and we have to imagine photos of your costumed self surrounded by thousand year-old shrines could make for some nice keepsakes long after you've returned home. The kids especially seem to enjoy it. Imagine putting on a 3-point hat and britches beside Independence Hall and you start to get the picture. Goofy, sure, but good fun.
More to follow on Kyoto.
-- Addie & Andy