santa barbara sunday
Recently I jumped at the chance to do something I've never done before - take the "Surfliner" Amtrak train from Los Angeles' Union Station to Santa Barbara - a train line that runs the length of Southern California from San Luis Obispo in the Central Coast all the way down to San Diego. Angeleno friends have long recommended taking the train up to wine country for a day trip, so when friends Lauren and Shari mentioned they'd be spending a holiday weekend kicking around Santa Barbara, I bought myself a Sunday morning ticket and off I went.
I was not led astray; for $64 round-trip, I took a super easy, comfortable 2.5 hour ride through the SoCal countryside. The train on the way up inexplicably didn't have wi-fi, but I appreciate the break from working and took the opportunity to write a bit. My Monday morning return train did have wi-fi, so all was well in my professional world. Union Station is easy access from our new house, and the station in SB drops you off right in the bustle of State Street, so the whole thing could not be more user-friendly.
There's lots to do in Santa Barbara, from strolling the pier to the wine tasting circuit, but we only had one afternoon and were after maximum vacation. To that end, here's how we indulged:
Salt Cave and Aromatherapy Massages - The Salt Cave
A 45-minute nap in a pink salt-lined room under a fleece blanket in an anti-gravity chair? Sign me up! I can't vouch for any of the mystical medicinal qualities of pink salt, but this spa is all in. I can, however, stand by a nice rest in a dark room with deep breathing - as long as you can laugh at the loud snores of your fellow nappers. The massage, though on the high side for a regular indulgence, was excellent. I had to exert maximum willpower to avoid buying all the delicious bath products on sale, and will no doubt be investing in a pink salt lamp soon. Whether it's charging the air's ions or not, they're lovely.
Local Wine Flights - Santa Barbara Wine Collective
The last time I kicked around the Funk Zone was over five years ago for a birthday weekend - another girls' trip - and at the time it was just blossoming with little more than a surf shop and some antique stores. Nowadays, the neighborhood is bustling with galleries, restaurants and design stores. We popped into the Santa Barbara Wine Collective to taste some of the local grapes and it did not disappoint. I settled into a five-wine tasting flight including a stand-out Dolcetto, and we enjoyed the live music playing next door.
High-End Spanish Tapas - Loquita
An hour later, we wandered next door to have a tapas dinner and proceeded to order nearly everything on the menu. The octopus and hamachi are stand-out items, as is the platter of churros we inhaled for dessert. I'll be back at the next opportunity, particularly considering the love for paella that unites Andy and myself.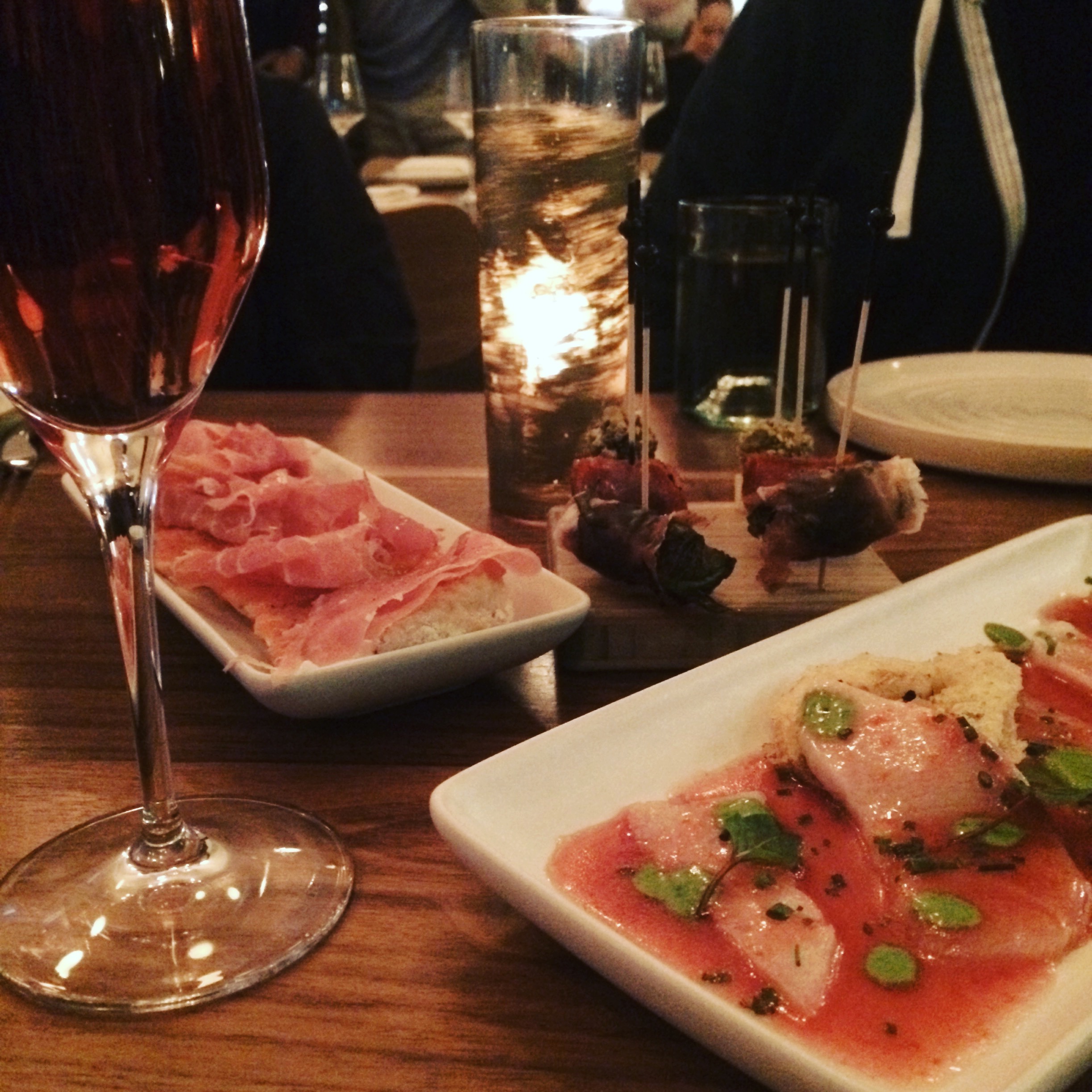 Healthy Breakfast - Backyard Bowls
Lauren and I, being firmly planted in middle age (and on the wrong time zone as far as she was considered), were awake at 6 AM and ready to see the sunrise. She was at the tail end of a week-long trip and looking for something on the lighter, healthier side to start the day. As I'm a huge fan of all things porridge, we wandered into this breakfast joint. I piled peanut butter and berries on a bowl full of steel cut oats and cashew milk and couldn't have been more pleased. Instagram immediately told me there's a sister store in West Hollywood so I can dive into oats anytime I want.
To Go Caffeine - Santa Barbara Roasting Company
Before boarding the train and settling into a morning of answering emails, we popped next door and grabbed coffee at this local roastery. It was bustling on a Monday morning with a large volume of people, some carrying surf boards, others settling in to do what looked like writing or blogging. This only cemented our inkling that we've made all the wrong choices in life that we too weren't carting surfboards and lattes to the Santa Barbara pier that morning. But - it's good to have #goals.